how to send free Internationa SMS with Yahoo Mail to any mobile
Yahoo Mail to a new functionality for sending international SMS free to any mobile phone. no registration required, you only need two things: Yahoo Mail and mobile phone number where you want to send free SMS. To begin, you need to switch from conventional to new Yahoo Mail - here's the simple procedure:.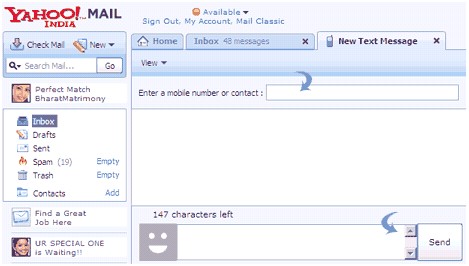 1. Login into Yahoo Mail & click "New Yahoo Mail" link at top right.
2. Click on the New Drop down(top left of page) and select TextMessage.

3. Add the number/contact to which you wish to send the message and click on send.
Now enter the mobile phone number (no need for country code) and your SMS text in the "New Text Message" form. Click the send button and your SMS recipient should receive the SMS within few seconds.
Yahoo! Messenger supports SMS messaging for the following countries and carriers:
United States: AT&T, Alltel, Nextel (including Sprint), Verizon Wireless, T-Mobile, Virgin Mobile
Canada: Rogers, Fido, Telus
India: Vodaphone Essar, Airtel, Aircel, Spice, Escotel, Reliance, BPL, BSNL, IDEA, MTNL
Indonesia: XL, Indosat, Hutch 3, Telkomsel
Malaysia: Celcom, DiGi, Maxis
Philippines: Globe, Smart
Thailand: AIS, DTAC
Vietnam: Mobifone, Viettel, Vinaphone, S-Fone, HT, EVN
Kuwait: Wataniya
Pakistan: Mobilink
Its FREE but the catch is that you can only send maximum of 5 sms to a contact after which your contact person needs to reply at least once and then your quota of 5 starts all over again. Although, am not sure of the pricing as far as the reply message is concerned.